So many new things to announce!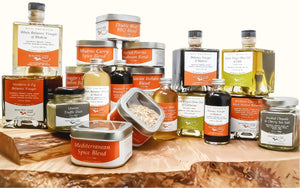 Hellooooo from Walden Lane Gourmet!
After a crazy holiday season of getting through our first couple of arts & craft shows as the new owners of WLG, we didn't even get a chance to catch our breath before jumping into the new year. We started January with a road trip to San Francisco for the Fancy Food Show, which was one of the coolest events I've ever attended. You could literally (and I mean literally) eat your weight in cheese each and every day if that's your thing. It was three glorious days of discovering the best new products and food trends, coupled with an unlimited supply of cheese. Did I mention the cheese?
We met some really great people down in San Fran, and are so excited to have already paired up with a few companies for items we can't wait to introduce to you. It's hard not to get swept away in the sheer volume of ideas one can stockpile from this show, but we really had a good feeling about a select number of items, and now we are turning those warm fuzzies into products we hope you will love as well.
On the topic of new products...we wanted to take the opportunity in this first "official" blog post to introduce two new lines within the Walden Lane Gourmet family of products. We know how important our classic balsamics, oils, spices, and salts are for the hundreds of existing WLG customers that have been with us for over a decade. So don't worry, there will still be plenty of Citrus White Balsamic Vinegar and Roasted Chili & Garlic Extra Virgin Olive Oil to go around. However, we saw a need for expanding both our premium offerings, for customers that want to pick up something extra special and unique, as well as the need for more simple everyday use items that can become part of your daily cooking routine.
So, with that said, we are SO excited to formally introduce you to our WLG Premium and WLG Pantry product lines! Our WLG Premium line will be a slow-growing select group of items for customers that want to further explore a broader spectrum of culinary delights. We already carried a couple of premium products, with our Balsamic of Modena and White Truffle & Butter Extra Virgin Olive Oil, and now we have brought in the lighter White Balsamic of Modena, as well as two bold and beautiful Extra Virgin Olive Oils with no added flavorings. These oils are from Chile and California, and represent what an authentic high-quality olive oil should look, smell, and taste like. These items were just added to our store in the last week, so whether you consider yourself a connoisseur, or you just want to get a little more adventurous when it comes to food, these items are definitely worth trying.
Now onto our new WLG Pantry line! These will be available online in the next couple of weeks, after we wrap-up the finishing touches to our labels and finalize our new spice blend recipes. We decided to launch this line with four different garlic seasoning blends, which will come in signature, spicy, smoky, and smoldering versions. While we know everyone has store-bought garlic salt in their pantries, we have set out to create something a little different, yet still familiar enough to use every day. Instead of loading these with salt, we actually focused on a salt to garlic/spice ratio that is opposite of your typical garlic salt. You can always add more salt if you like, but we wanted to concentrate on bringing out the garlic, spice, heat, smokiness, herbs, and other flavors mixed into these blends. They will be sold in our grinder bottles so that with every twist of your wrist, you will be seasoning your food with the freshest of flavors. Down the road, we have plans to offer refill packages for our WLG Pantry line spices, so those grinders can be used over and over and over again. Also on the WLG Pantry front, we have a surprise to announce regarding our Lime Avocado Oil, but I'll save that for our next post!
Overall, it's been a crazy start to 2019, but we are gearing up for the summer event season, while making sure there is plenty of stock for your online orders. Stay tuned for more info on which local events we will be attending, so you can stock up on Walden Lane Gourmet in person!
Cheers...and remember to always cook with abandon!
Lisa
Owner and CCO (Chief Culinary Officer)
Leave a comment
Comments will be approved before showing up.